ISOLATION - A USER'S MANUAL
by George Kaplan
october 02, 2020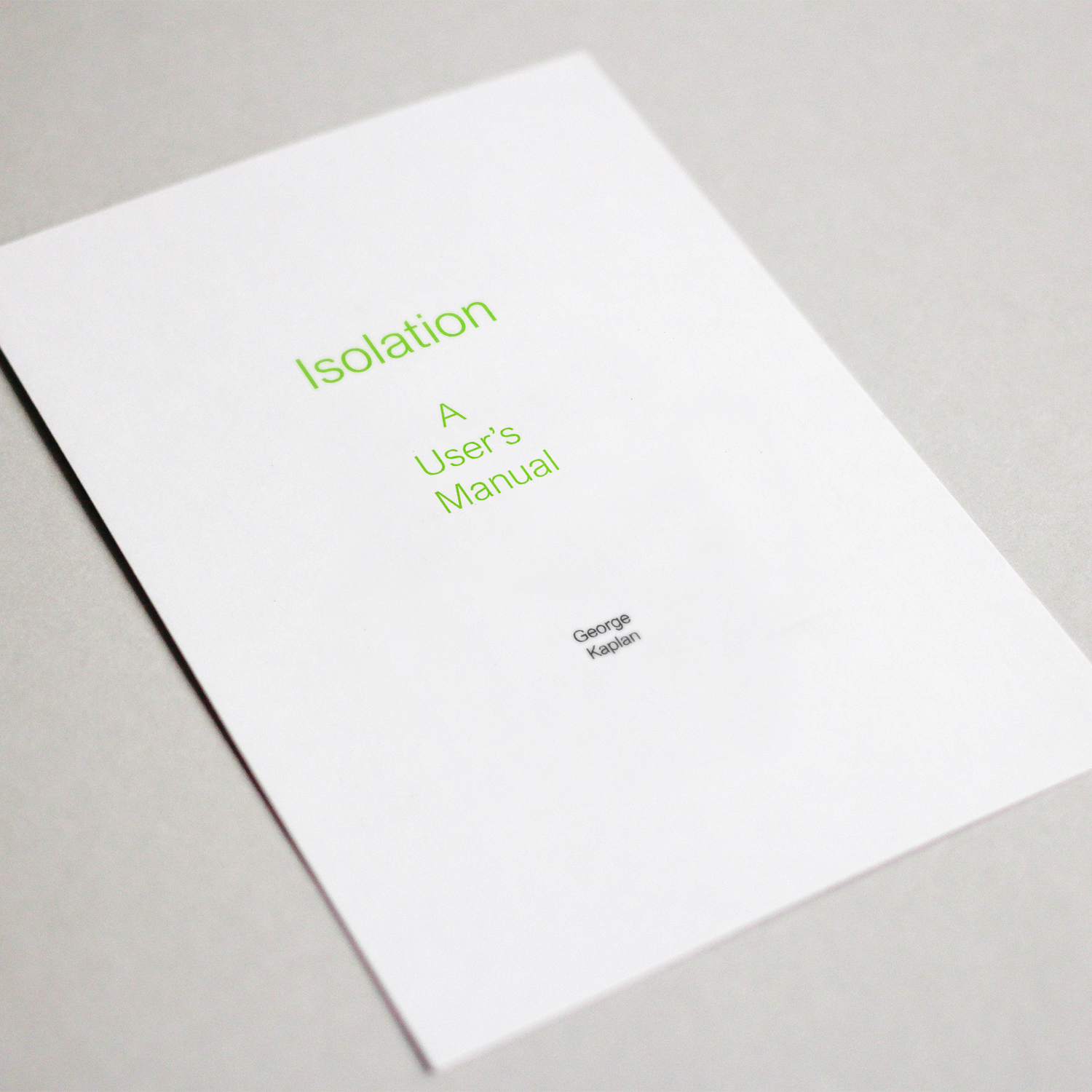 With new Covid restrictions just around the corner (here in France) or already in place (the UK), your Isolation User's Manual is just what we need. How did you come up with the idea?

The idea for the manual was borne out of frustration with mixed messaging from a government claiming that everything was perfectly clear and straightforward as to how people should conduct themselves during the pandemic. I also knew people who were shielding, including some whose mental health was really suffering. I had also recently come across the work of Czech poet and artist Jiří Kolář who worked under the communist regime until he was forced to emigrate by his government. A contemporary of Vaclav Havel, he produced literary and collage work which mimicked aspects of communist dicta. I wanted to play with some of these ideas and visually referencing Kolář 's "A User Manual" seemed promising.

Why is it signed George Kaplan and not Geoff Litchfield?

George Kaplan is the name of a fictitious artist created by myself and a small number of my peers during our Fine Art degree course in the late 70's. In recent years I resurrected him in order to post some work more anonymously but in addition, free myself from over analysis and restrictions I inadvertently and subconsciously was placing on myself. It seemed fitting to use him for the manual.








week 3
Preparations

Get up
according to your normal routine
Wash all your clothes
and put out to dry
Make a list of all your essential contacts
Retrieve playing cards
and other solo games
from the back of the cupboard
Devise an online
general knowledge quiz

week 6


New Orders

Get up

according to your normal routine

Stand in a corner

of each room

in your house or flat

March slowly

to each corner

starting to your left,

counting your paces

Count the total number of steps

and divide by the number of rooms

Resolve to order

this number of items

online

Multiply this number by your age

Reread government health advice






week 9


Redecorating

Get up

according to your normal routine

Design a new colour scheme

for each room in your house or flat

Using coloured pens and paper

relabel all spare tins of paint

with the wrong colour

Make a line of shoes

and paint stripes

of different colours on each shoe

week 12


New Normal

Get up

and put dirty clothes

in the sink

Find a corner of a room

and stay there thinking

of green cattle

Make a hot drink

and let it go cold

Place the mug in the sink

emptying the contents

onto the clothes

Go back to bed




Is there any way for people who really need a manual like this to get their hands on it? Are you open to maybe a little collage in exchange for a copy?

I am happy for anyone to have a copy of the manual. It's for public information after all! An exchange of a small collage would be lovely but absolutely not essential.

Do you already have plans or projects for a possibly very confined winter?

I have two differing projects lined up in case of further lockdown. I have recently obtained a copy of the "Illustrator-like" program Inkscape and am determined to find time to learn to use it effectively. I need to extend myself beyond the safety blanket of PhotoShop! The second is to complete a long term collage project which involves a reworking of a vintage booklet of sepia prints of the Tivoli Gardens. The aim is to have a purely analogue version alongside a digital companion. It also involves textual work and whilst it has a kind of non-linear narrative, much is evolving through allowing the intervention of chance and the haphazard.

Isolation - A User's Manual
by George Kaplan a.k.a. Geoff Litchfield
[you can read a past interview with Geoff here]