interview
MARGOT DE KORTE

︎Netherlands
may 01, 2019




Houses, flowers, moons. Children from old photographs play across the page, their black-and-white contrasting wildly with rich greens, acid pinks, and eggshell blues.

Welcome to the work of Margot de Korte.

Margot's collages are by turns playful and haunting. They're always unforgettable. I reached out to this analogue collagist, who's participated in many of PCC's weekly challenges. I wanted to find out what's behind her work, and what advice she'd give to someone taking their tentative first steps into the world of collage.

Here's what she had to say.




How would you define yourself as a person and as an artist?

I'm an optimistic person. Every day brings new opportunities. I believe in setting goals, even small ones, to keep myself focused, like making a collage every week for Paris Collage Collective and for The Collage Club. I joined the Collage Club in November 2017 and have only missed one page so far. I even bring the book with me on a holiday. Over the last two years, making collages has become an important part of my life.

What first interested you in collage?

In high school I discovered the work of Robert Rauschenberg and I was very impressed with it.






How long have you been collaging?

I made my first collage in high school and I fell in love with this medium. For my final exam to become an arts & crafts teacher at a secondary school, I made collages on wooden panels, using photos, magazines and paint.

Do you have any formal fine arts training or degrees?

I have a degree in art education for secondary schools. I also studied photography for a year at an art academy.

What is your process like?

It really depends on my mood how a new collage starts.

Sometimes I use an image I found at an earlier stage as a starting point to create a specific atmosphere. Combining color and shapes and the materials that are needed to make the composition work, a very structured process.

On another day I just love to work with paper and start cutting, tearing and making compositions, using mixed materials. In these moments I'm not structured at all. Often I make things I can use as a background or as a detail later. It makes me happy, the same joy I feel when mixing paint.

What do you think makes a collage successful?

It has to draw your attention and it must be in balance.






Like many artists today, you have an Instagram account. How has social media impacted you as an artist?

I started posting my collages on Instagram on a regular basis two years ago. I was surprised by all the nice feedback on my work. I started following others and discovered so many talented artists. I found out about communities like The Collage Club and Edinburgh Collage Collective and lately Paris Collage Collective. It made me grow as an artist. I really appreciate the feedback. The collage community is a very positive group of people.

Which of your works are you proudest of?

Hey little girl where are you going to? - I love to use empty spaces in my work. In this one I put the little girl in so many positions in the collage until there was a perfect balance.

Please don't go - You can almost feel the pain of the little girl and the colors are beautiful together.






Many of your collages use vivid colors, including greens, pinks, blues, and yellows. What attracts you to these colors? Do you think color makes a collage more compelling?

I love to use those colors, and in my collages, they make the image stronger. I also like to work with old faded paper.

Who or what inspires you?

Artists like Henri Matisse, Marc Chagall, Mark Rothko, Edward Hopper, David Hockney. The colors and atmosphere in their paintings is phenomenal. In the works of Edward Hopper it almost looks like time is standing still, it is a bit uncomfortable. On Instagram there are many great collagists. The works of Marcos Guinoza are outstanding. My friends at The Collage Club are a great inspiration for me. I'm also inspired by the colors of nature and daily life.

Your work is analog. How do you feel about digital collage?

I never would trade my scissors for the computer, but I love the works of people who do.

On your Instagram, I've spotted several shots of street art in Amsterdam. Does street art inspire your work? Have you ever done street art, or would you like to one day?

I'm a huge fan of street art. Last year I took a street art tour with friends in Madrid. There is so much incredible work. The contrast between old buildings and the beauty of the art is fascinating. There is also a lot of fantastic street art in Heerlen (in the southern part of the Netherlands). The best is when I'm walking and suddenly see some incredible work.

Making street art someday sounds like a big and great challenge.

Are there any movements or techniques in the art world right now that excite you? Any that upset or frighten you?

I see more and more street art and in my opinion that's great. And social media makes art more accessible for a lot of people.

Which work of yours was the most challenging to create, and why?

Making She left everything behind for the first issue of Cut Me Up magazine. The images in the magazine were the starting point for the collage and totally different from the ones I usually use.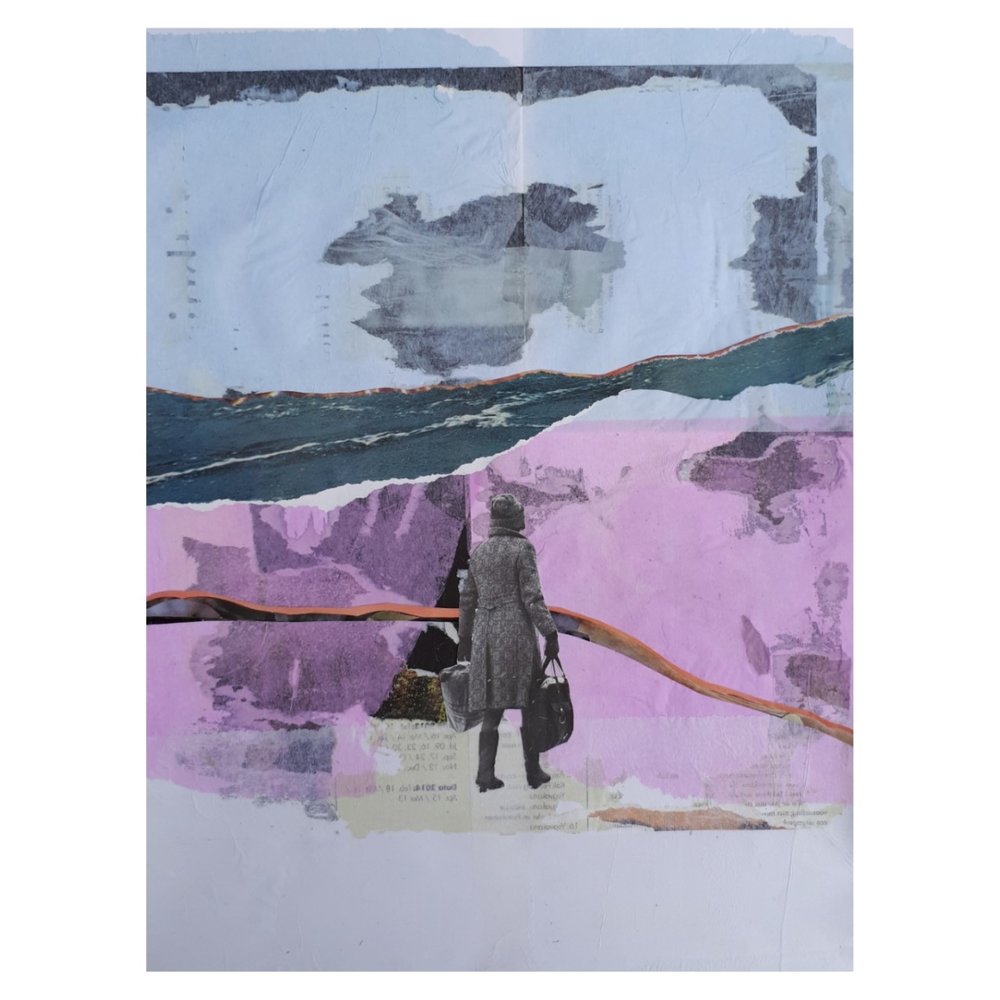 What are your biggest challenges as an artist?

I really have no idea right now.

What is your goal as an artist?

To improve my creative skills, try different materials and techniques. Recently I learned how to make a screenprint , a great technique and definitely something I want to do more often in the feature.

What do you like to do in your free time, when you're not creating art?

I work three days a week as a primary schoolteacher. The children in my group are 4, 5 and 6 years old. I really love working with them; they are spontaneous and very creative. I really enjoy all the things they make.

What advice would you give to someone who wanted to start collaging?

Collect things you really like and start cutting. The best thing about collage is that anything is possible. If something goes wrong rip it off and glue some new images on top. You will be surprised.

Margot de Korte on Instagram
interview: Alysa Salzberg