WORKBOOK 2022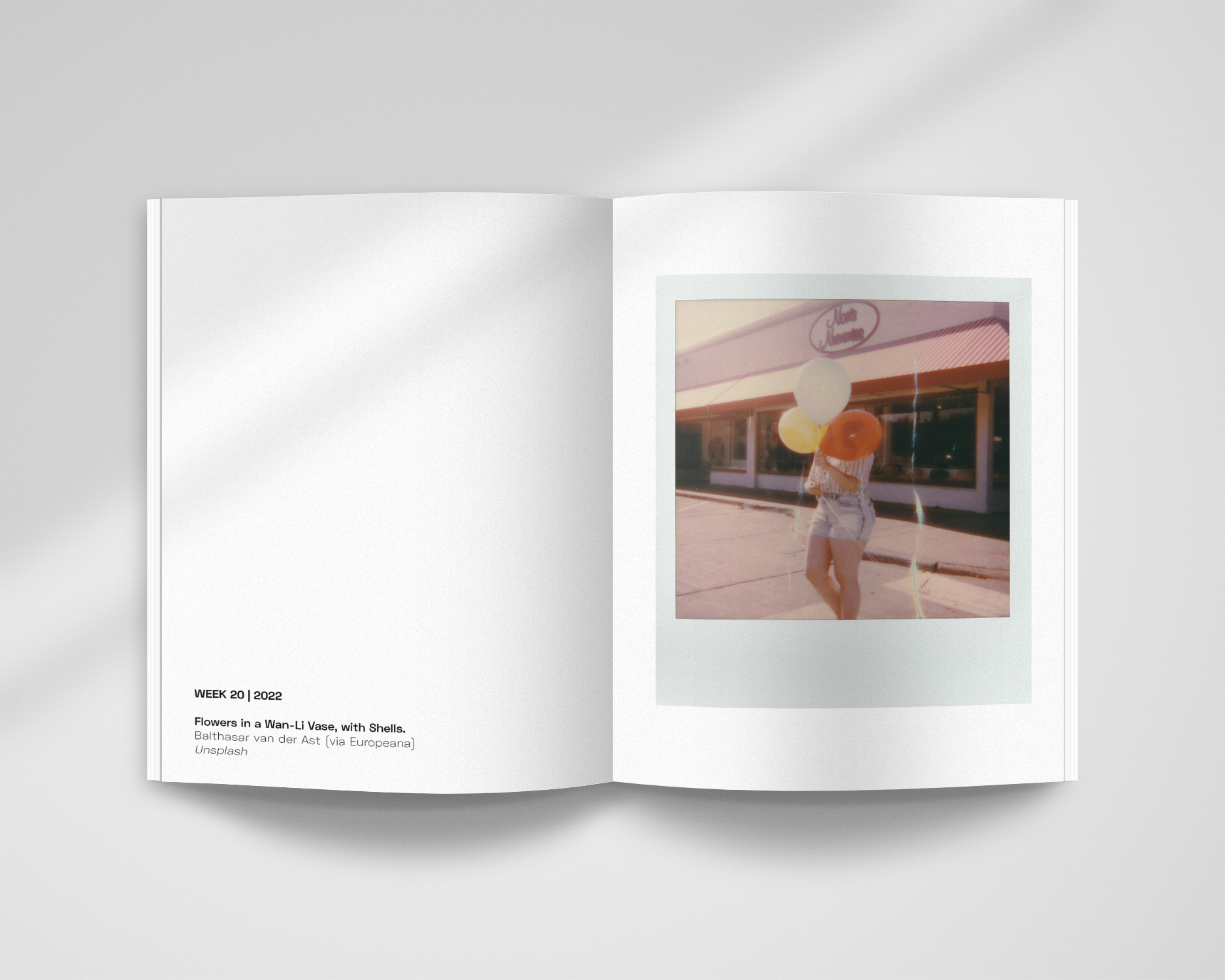 PARIS COLLAGE COLLECTIVE WORKBOOK 2022

A lot of you told us about occasional difficulties printing our images prompts, and we listened. This book is for you, and it is yours to do with as you please. You can collage directly onto its pages or take it apart. The name of the photographer, source and week number are on the back of each image, and not to its left, so you will always know what you are working with should your book fall to pieces (and should you wish to reassemble it later on).

Unlike the people who download the image prompts from our website and who only have access to the two most current weeks at a time, you have been given a whole year's worth of inspiration. Beware! With great power, or in this case a great number of images, comes great responsibility. Please do not post your collages to Instagram ahead of time!

To find out what week we're in, please check our website or Instagram account. New challenges are announced Monday.

On that note, our challenges are planned a long time in advance, and there is always a small chance that an image is no longer available for download by the time 'its' week comes around. In this case, we will (have to) swap it for a different image. However, all images were available copyright-free at the time this book was created, so you are free to work with either the originally suggested photo (without having to worry about a thing) or to download the new one. Up to you! And apologies in advance. Even though it won't be our fault. Just saying...

Please post your finished artwork on Instagram with the hashtag #pariscollageclub. If you are new to Instagram or if this is your first year of PCC challenges, please make sure that your account isn't (is NOT) set to private, and that sharing to stories and tagging are allowed, or we won't be able to show your work over there. And wouldn't that be a shame!?

And last but not least, a little reminder that we've added in one form or another to every single creative challenge since week one many, many moons ago, and that is probably even more important for you, starting on this potentially yearlong journey: Don't panic! This project is about creative collaboration, learning with and from each other, and having fun. If you want to join this challenge but have missed the beginning or know you'll be busy for a while, please feel free to come back later, or dip in and out of this it as you like. There are no obligations. You do whatever you like, whenever you like, however and wherever you like. Because "collage is an institute of education where all the rules can be thrown into the air, and size and space and time and foreground and background all become relative, and because of these skills everything you think you know gets made into something new and strange." [Ali Smith, Autumn]

Happy cutting, pasting, gluing or digitally causing mayhem!

WORKBOOK 2022
112 pages
52 challenge images
soft cover
format: A4
€ 30



SHIPPING AND RETURNS

All books are printed on demand within approximately 4 working days.

Shipping to Western Europe can take 2-5 business days outside of peak seasons, shipping to Eastern Europe and the US can take about 5-7 business days outside of peak seasons, the rest of the world may take up to 10 days or more.

There may be Covid and/or Christmas-related delays.

The books are shipped directly from/by the printer, and shipping rates and taxes will be calculated based on your delivery address.

For ethical, moral, social as well as environmental reasons, we decided to have our yearbooks printed by a small(er) on demand printer and not the seemingly obvious one that starts with an A and end with mazon. Turns out the quality is better and the price lower, however, since they do not employ a small army of underpaid minions, shipping and handling are more expensive.

The yearbooks are shipped in flat cardboard boxes. If your book arrives damaged, please email a photo and we will get in touch with the printer to arrange for a replacement.

Please report any damage within two weeks of receiving your book(s).

You are responsible for any customs and import taxes that may apply. Also please understand that we are not responsible for delays due to customs.